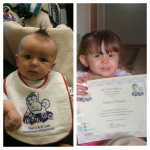 Frequently Asked Questions
What are EEG and ECG? What do these techniques involve?
In the CAP lab, we use EEG (electroencephalogram) and ECG (electrocardiogram), which are harmless procedures used to track children's brain and heart activity. In order to measure brain activity while your child plays games, we will place a stretchy cap with sensors on your child's head. The cap looks and fits like a swim cap. Gel is then applied to your child's hair through little holes in the cap. The human brain emits tiny electrical signals, and our caps pick up those signals. The cap sensors themselves do not give off any signals, they simply pick up signals coming off the surface of the scalp. In order to measure heart activity (e.g., heart rate), we place two small sticky patches on your child's back. These procedures are similar to those used in a doctor's office and are not harmful to your infant/child.
What do these studies involve? What will we learn from doing these studies?
In our studies, we play different games with your infant/child to understand how he/she learns, remembers, and thinks. For instance, in the puppet game, we examine how infants learn by watching and imitating others' actions. By using EEG and ECG, we also gain insight into how brain and heart activity are related to learning, remembering, and thinking.
What happens if my infant becomes uncomfortable or I want to stop the study?
We realize that infants are dynamic individuals (e.g., fussy, hungry, etc) and that we might need to take a break(s) during our games. Your infant will not be forced to participate. You know your infant better than we do, so if he/she becomes fussy or uninterested, we will ask you if your infant just needs a break or if he/she is done with our games and it is time to go home. You can stop the study at any time with no penalty to yourself or your child.
How long will the study take?
Although there is some variability between studies, most studies take about an hour. This includes time for you to fill out paperwork, ask any questions, and for your child to acclimate to the lab.
Where is the lab located?
On University of Connecticut's Waterbury Campus, Room 337. Directions can be found here.
Is there parking?
Yes, we offer free and convenient parking in the Campus Parking Garage. As you pull in to Campus Parking Garage, a research assistant will meet you to direct you to the parking spot and provide you with a parking pass. Directions to the Campus parking garage can be found here.
I have another child. Can I bring him/her to the study?
Siblings are always welcome! We just ask that you let us know in advance so that we can make sure that one of our assistants will be available to "sibling-sit" so that you can be in the room with your other child during the study. We have many toys in our lab that are fun for all ages.
Will my child receive payment for participation? Are there costs to participate?
At the moment, we are able to provide $15-25 for participation in our studies, but this is for a limited time and dependent upon grant funding. Regardless of our funding situation, your child will receive a certificate of participation (suitable for framing!) and a small gift (see our bibs and t-shirt with our cute baby EEG Husky mascot). We also believe that your child will find our games fun to play! There are no costs to you and your child for participating in this study, aside from transportation to our lab. Parking will be provided.
Will I receive the results of my child's performance?
Our studies are designed to investigate the abilities of typically-developing children at specific points in development. Thus, we collect data from large samples of participants and look at average performance of groups of children. In general, we are not assessing your child's intelligence or achievement potential. Although you will not receive the results of your child's visit to the lab, you will receive a letter describing the findings of the study in which your child participated.
Will I be with my child while the study takes place?
You will be with your child at all times.
When are appointments scheduled?
We try to schedule appointments for times when your child is typically awake and playful, usually between Monday and Friday from 8:00am until 6:00pm. Occasional Saturday appointments are also available.
I have more questions…
We would love to have the opportunity to chat with you about our research and answer any of your questions! Please email us as kidCAPlab@uconn.edu or call us at (203) 236-9933. If we do not answer, please leave a message and we will get back to you ASAP.